-Great Escape Rooms for Your Next Team-Building Activity
-Customized scheduling available- Largest player capacity- Special team pricing. Discover the strengths and weaknesses of your employees, enhance their team performance and build camaraderie with the help of Loveland Escape Rooms Clueology. Our interactive, interesting games have different themes that you can choose from. All of them have puzzles and riddles that your employees need to solve to successfully escape the room. Through these games, you would find out how your workers interact with each other, how well they resolve conflicts, as well as how quick and creative they can be when it comes to problem-solving.
In addition, your employees would learn more about their coworkers. They would discover who among them is a natural leader—the one who would take charge and work well with the rest of the team. They would also be able to identify who among their peers can efficiently solve problems even under time pressure.
Please take note that our room's capacity is 36 players per 75 minute cycle.  Time is given to reflect on your adventure. In case you want to book us for your large groups, coordinate with our team. We can help you create a custom schedule that fits your group and circumstances. Our management is willing to accommodate any special needs you might have.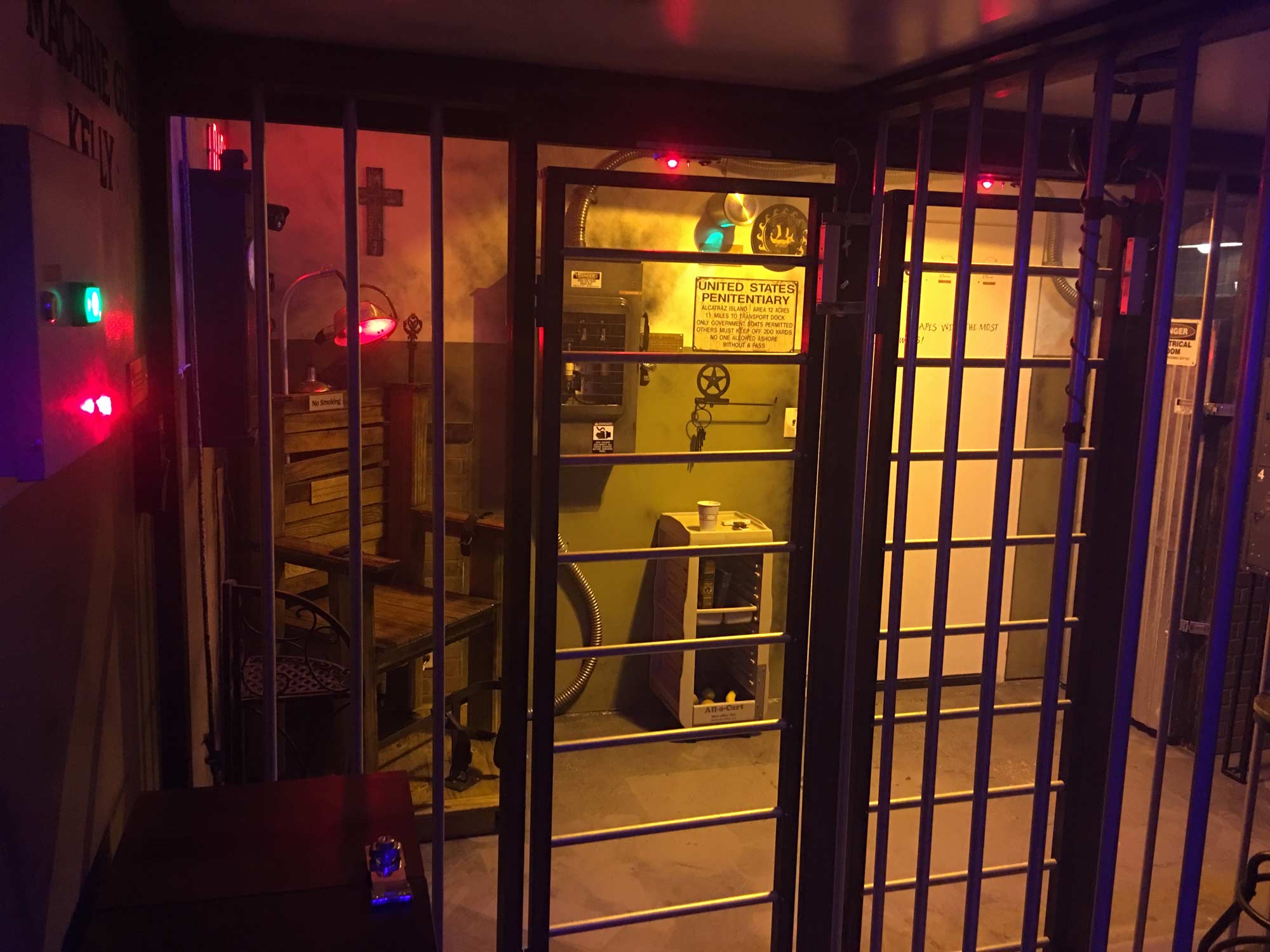 - Lindsay N.
"Absolute best night out in a long time! Such an eventful evening to get to share with family and friends. The rooms themselves are incredibly impressive, and the staff is OUTSTANDING. Thank you for a great night!"
- Karis Gregory G.
"Really impressed! Challenging but not impossible. Our first time doing an escape room, but we had heard from friends that this was the place to go, and we weren't disappointed! Thanks!"
- Kimberley P.
"Fallout Room was soooooo intense!! Loved every minute of it!! I would definitely recommend Clueology Escape Rooms!!! We will so be going back!!!! The owners are wonderful!!! Made my 1st time terrific!!"
- Nikki B.
"What a great adventure! The room was challenging and so visually appealing, and we will definitely come back to try the Fallout Room next. Get your friends, and go do this! Thank you for booking us on short notice too. Clueology rocks!"
- Josh S.
"Flat out awesome place to go. The room was challenging, but that's what made it fun. The owners are super cool. Will be going back to do the other room."
- Jolie Beth B.
"We have done more than a dozen escape rooms throughout Denver and Northern Colorado and recently played the Fallout Room at Clueology. As soon as you enter the room, the immersive environment is the first indication that you are getting ready to have a five-star experience. The variety of puzzles and attention to detail continue throughout the game, and the ending 'escape' is one of the best we've ever seen and certainly unique. Well played, Clueology! We're looking forward to the new rooms!"
- Joanna R.
"We visited the Fallout Room last night. My first time in an escape room. The room was great and exceeded my expectations. The owners were very helpful and accommodating. I will definitely be back."
- Stephanie G.
"What a great time!! I participated with a group of seven women, and all of us were escape room newbies except one. It was challenging but not overwhelming; it took teamwork and communication. We had a lot of laughs. If you are looking for a fun activity for office team building, group outings, ladies' night out, or even a date night… check out Clueology!! Ryan and Krista created a great puzzle. I am hooked and cannot wait to come back again!"
- Sarah D.
"Where to start. I'm not an escape room virgin. I've done a few. This was by far the best I've done so far! From the setup to the execution of the pieces… I've found some that are so super complex they stop being fun, especially if you're stuck. This was not the case. All 11 of us worked together, tried a few times, and made it out with 13 minutes to spare! Definitely will be back to see their other rooms!"
- Krista S.
"PDP Escape Room. We have done a few escape rooms along the front range, and this one by far is the best! Their attention to detail and design are fantastic. Their facility is clean, and their customer service is wonderful! We highly recommend Clueology for families, friends, team building, and parties."
- Keith W.
"Best escape room in Northern Colorado! Great use of technology. Difficult but not confusing. Everything is straightforward. The owners are really nice. You can tell they put time and effort into their rooms. Cannot wait until they open another room!"
- Aaron M.
"We did the Escape From Alcatraz room and loved it! The experience was very unique amongst escape rooms. It was one of the most high-tech rooms we have visited, and it was thematically engaging. The puzzles and clues were appropriate to the theme as well, which made the experience one of the best yet! The staff was very friendly and helpful; they even recommended some of their favorite rooms in the area, so we will be visiting those soon hopefully! And we will be returning to escape the other two rooms as well! Highly recommend this experience!"
- HeidiBurton
"What a blast!!! This escape room was so much fun! We made it out with 19 seconds left, and my heart was pounding! Most of our group had never done an escape room, and I think we all just picked up a new hobby! The staff was great, and it was obvious they truly enjoyed their jobs! Definitely a good time for everyone!!!"
- Anna S.
"The time and effort put into these rooms truly show how amazing the owners are. Not only were the rooms the best out of all our escape room experiences but so was the staff. Super friendly, stayed late to let us do another room. I love that this is a family-run business, and they take the time to chat before and after. They felt like friends I have known my whole life! A MUST DO!"
- Stevem54
"Total Blast! Outstanding Escape From Alcatraz. Great escape room! Clever setup, especially with the little 'side game' that our daughters took full advantage of. Very unique concept and arrangement that we really enjoyed. The builders/owners couldn't have been nicer and more accommodating. We'll definitely be checking out their other rooms!"
- Jessina M.
"I bought my son tickets for Valentine's Day so that he and his girlfriend could have a fun and safe date. He came home and told me it was amazing! He already wants to go back and promises not to give away any clues if I go with him. He and his girlfriend had a fabulous time!!! Thank you Clueology Escape Rooms for a fun and safe place for a teenage couple!!!"
- Mauricio P.
"Went one night with a big group to do 'The Fallout Room' and loved it so much, went back the next day to do the 'Escape From Alcatraz' room! The rooms are well designed and thoughtful; the atmosphere was detailed, immersive, and fun. The puzzles are what I consider the right level of challenge for people of all kinds.
The Fallout Room is great for large groups (we were 11 people). It offers a wide range of puzzles. Every person in my group felt essential to solving the room. Also, the robot is pretty impressive!
The Alcatraz room is perfect for a smaller group (we were three people), and there are a twist and an added challenge that make the room a lot of fun; we couldn't stop talking about it after we left.
The staff is wonderful! They seem to have a strong passion for the rooms, the experience, and puzzles, and they truly care about creating something different and special.
I am looking forward to what they would come up with next."
- Mike D.
"10/10 – GREAT ALL AROUND! We have only been to a handful of escape rooms thus far, but when we came to visit their Fallout Room at Clueology, I immediately knew I needed to visit them again to complete their other room.
The Fallout Room is very well designed, and the steps along the way are so fitting to the theme they have created; it really puts you in the scenario as if it is really something you had actually stumbled upon. We did this room with four of us friends, and it was really great. I'm a little surprised we finished in time with a few minutes to spare. If it wouldn't be easy the second time, I would absolutely do that room again!
The PDP (Pandemic Device Project) is equally well done, a little smaller enclosure yet we barely edged up—completing this room with eight people for a team-building event. Definitely a different theme, and the steps along the way are very appropriate in getting you into the scenario of what is happening around you!
They are working on a new Alcatraz room that I will absolutely be there to complete as soon as I can after it opens!"
- Rose H.
"Clueology is the best escape room around! I've done about 15 rooms at 6 different places around the North Denver area, and this was by far my favorite. The rooms really draw you into the theme, and the puzzles are just phenomenal."
- Wyatt G.
"I have done about 10 escape rooms, and this is, BY FAR, the best I have ever done. Customer service was absolutely outstanding; the rooms were LIFELIKE, and the competition was real. I highly recommend this company 100%. Thank you so much for a fantastic experience!"
- Felix Meme L.
"Amazing, by far, the best thing that I have ever done. I will definitely be going to another escape room here for my birthday."
- Jana S.
"What an absolute blast this was!!! It was my first time in an escape room. I was nervous that I might be too claustrophobic but not at all. You definitely had to engage some brain cells but oh so fun. It required five of us to solve the clues—finding keys, solving riddle questions, etc. Wow—I would do this again in a heartbeat. This place was fantastic!"
- Katie M.
"Absolutely fantastic!!! We escaped the Fallout Room and were so impressed with everything! Definitely recommend for everyone! We did this for a family bonding event, and this is one of the best rooms we've been to."
- Tifini Jones A.
"We had so much fun at Clueology! It was challenging but not frustrating. Just the right balance. The family that owns and runs it is super friendly and helpful. They have really done an amazing job in putting the business together. As a group of four adults, we had a blast, but we will be bringing our eight-year-old for sure. This is family-friendly and fun! I basically begged my companions to go with me, but they are all hooked! Please go try it out! You will not be disappointed!"
- John A.
"Special effects are awesome, great theme! The owners are super; they have put a lot into the rooms, and they are very entertaining. We already booked another trip!"
- Katie M.
"So much fun with my coworkers! The creativity was great, but I appreciated it even more after finding out it was owned and operated by a family! They put so much work into it. I was a little worried that I would be claustrophobic or in panic, but they set it up so well. We had fun, bonded, and I got to fulfill my dream of playing detective!"
- Amy J.
"We loved this room! This room is why we love escape rooms. We will be back. Staff was friendly and fun!"
- Krista B.
"The Fallout was an intriguing escape room, which had every detail thoughtfully planned out! My group of 12 worked very well together at solving puzzles and accomplishing the goal within an hour though it was not easy. Clueology takes great efforts in making quality rooms with unique twists you wouldn't expect. Definitely the best room I have done to date!!!"
- Zach G.
"Did their pandemic room with a group of people. Absolutely, without a doubt, the best room I have ever done! The story was very well done, and the clues were fantastic, definitely difficult, but not enough to make it impossible, and they were very well done in such a way that they led to what they were for. I absolutely loved it, and I can't wait to go back and try their Fallout Room soon!! :-)"
- Erin W.
"FANTASTIC! Alcatraz was the 3rd room I have done with Clueology and def my fav! LOVE the theme and the little twist of this room. The owners here are awesome—accommodating, pleasant, and I'm pretty sure they have as much fun as the players do! They really know how to put together an escape room as all three are excellent. I cannot wait for the next to open. I would recommend Alcatraz in a heartbeat, and I say no to A/C!! Lol! Thanks for another great experience!"
- Patrick J.
"Awesome people, awesome rooms! We've done a ton of rooms, and these were two of our favorites! A must play for newbies and pros both!!"
- Beth T.
"My boys and I had a BLAST in the Fallout Room today! Amazing set, tricky puzzles, fun staff! We were so impressed and will definitely be back to try our skills at their other rooms!
So excited to have found them!"
- Joshua M.
"Our group of six had a blast playing the Fallout Room. After the game, we were given a tour of the other rooms. We're very excited to get back to Clueology!"
- Happy Mom T.
"Our school did a team-building event for new students, and it was a fantastic experience! The owners were extremely helpful and made it easy from start to finish. This is the perfect location with lots of rooms for any type of event—team building, parties, date nights, etc. We'll definitely be back!"